AI-Ecosystem with AI-B2
Build your own state-of-the-art AI-Ecosystem
Thanks to the perfectly coordinated AI Building Blocks (AI-B2) of our Annotation & Measurement Client, Data Management, GPU Server and Innovation, scientists have access to all the tools they need to use artificial intelligence without having to become hobby computer scientists themselves.
With this AI ecosystem, large amounts of medical image data can be quantified in a very short time. For example, to capture the volumetry of organs such as liver, heart, prostate or to find and classify tumor cells.
Applications
Clinical, preclinical & industrial research
Clinical trials
Life & bioscience
Qualitycontrol
Post market surveillance
Solutions
Powerful software for annotating and measuring
Convenient data management
High-performance GPU server
Supported by expert knowledge
Benefits
Time & cost reduced research
Seamless integration into existing data flows
Zero coding principle
Flexible external IT partner so you can focus on your research question
"Research on current clinical issues can benefit significantly from artificial intelligence technology."
Dr. Marcus Prümmer, Chimaera General Management
AI Building Blocks
Our Chimaera AI Building Blocks (AI-B2) provide all the necessary components of an AI ecosystem combined with aligned services to get started with image analysis. Chimaera takes care of the technical connection to existing work and data flows and ensures seamless integration on site.
The flexible composition of the Building Blocks enables the scalability of the system - depending on project size or customer requirements.
Chimaera Annotation Client
Our Annotation Client software simplifies annotation and measurement tasks in images and can even be used for automation tasks with its fully integrated AI technology.
It was developed by machine learning developers for researchers with the goal of:
quantifying large amounts of image data at the push of a button
supporting all kinds of input data (2D/3D) and time series
allowing manual and semi-automatic annotation using smart brushes in multiplanar view
automating annotation and measurement tasks with AI models
being able to quickly customize workflows for client-specific projects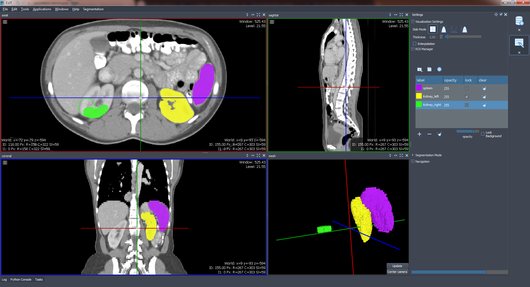 Data Management
The AI-B2 block for Data Management includes:
Installation and configuration of a data management platform (XNAT ML)
Mapping of data flows and docking to various interfaces (PACS, DICOM nodes, ...)
GDPR-compliant data management for a high level of data safety and security
GPU Server
The GPU Server block includes the installation and setup of:
Dedicated GPU Server technology in partnering with hardware distributors (e.g. NVIDIA DGX stations)
Docker containerization and configuration of various services
Infrastructure suitable for Federated Learning (de-centralized AI model optimization without having to share data)
Innovation & Reasearch Support
As an external IT partner, Chimaera supports the implementation of individual ideas and ensures a smooth realisation of the project.
Integration of project-specific features into the Chimaera Annotation Client
Hands-on customer training on the systems
Individualisation of the software framework
Nina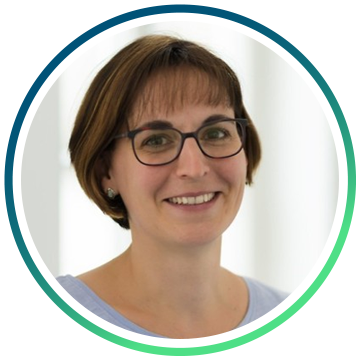 Dr.-Ing. Nina Ebel
Am Weichselgarten 7
91058 Erlangen
Germany
+49 (0)9131 - 691 388
+49 (0)9131 - 691 386
ebel(at)chimaera.de